XD4500HTP/G
ASL XD4500HTP/G is a digital short-arc lamp suitable for use in the following projectors: CHRISTIE CP2000, CHRISTIE CP2000-SB, CHRISTIE CP2230, CHRISTIE CP4230, CHRISTIE D4K35, CHRISTIE Roadie 4K35, CHRISTIE Roadie 4K45, CHRISTIE Roadie HD+35K.
Replacement for LTI LTIX-4500W-DC & XDC-4500C, OSRAM XBO 4500W/DTP OFR, Christie CDXL-45, Superior Quartz SXD4500HTP
Warranty/Life
Warranty: 0-1100h
Technical specification
Power (W) - 4500
Rated Current (A.D.C.) - 140
Voltage (V.D.C.) - 31.5
Current Control Range (A.D.C.) - 130-150
Average Lumen Output (Lm) - 195000
Burning Position - H±15° V±15°
Forced Air Cooling (m/sec.) - 10-13

Cross Reference
LTI - LTIX-4500W-DC & XDC-4500C
OSRAM - XBO 4500W/DTP OFR
Christie - CDXL-45
Superior Quartz - SXD4500HTP

Projector Reference
CHRISTIE CP2000
CHRISTIE CP2000-SB
CHRISTIE CP2230
CHRISTIE CP4230
CHRISTIE D4K35
CHRISTIE Roadie 4K35
CHRISTIE Roadie 4K45
CHRISTIE Roadie HD+35K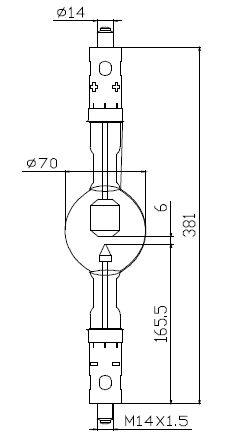 Specs subject to change without notice. All trademarks, service marks, trade names and product names appearing on this page are the property of their respective owners.